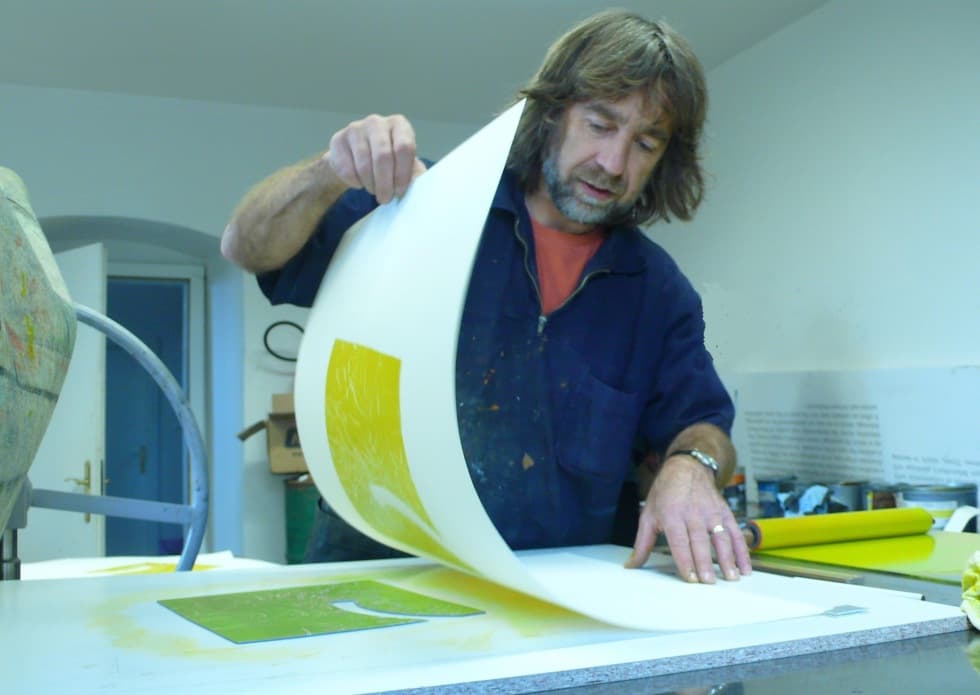 M I L O Š S L Á M A • graphic artist
Miloš Sláma (b. 1965) graduated from the College and High Art School of Václav Hollar in Prague having studied graphic arts and book illustrations. But he did not print a single linocut design there. He discovered the technique for himself after moving to a house with stocks of discarded linoleum. A year-long scholarship in Paris, a one-month pilgrimage to Rome on foot, a four-day stay on Mount Athos and everyday life spent between his studio and open air are among his other inspirations in life. Miloš lives and works at a former vicarage in the village of Křoví.
He creates his linocuts by gradually cutting them from a single matrix in register of up to twenty paints. His experimenting with printing techniques has resulted in the invention of the SLÁMA PRESS, his own graphic ball press. On occasions, he engages in work to be used for sacral architecture and illustrations.
Miloš is member of the Hollar Association of Czech Graphic Artists.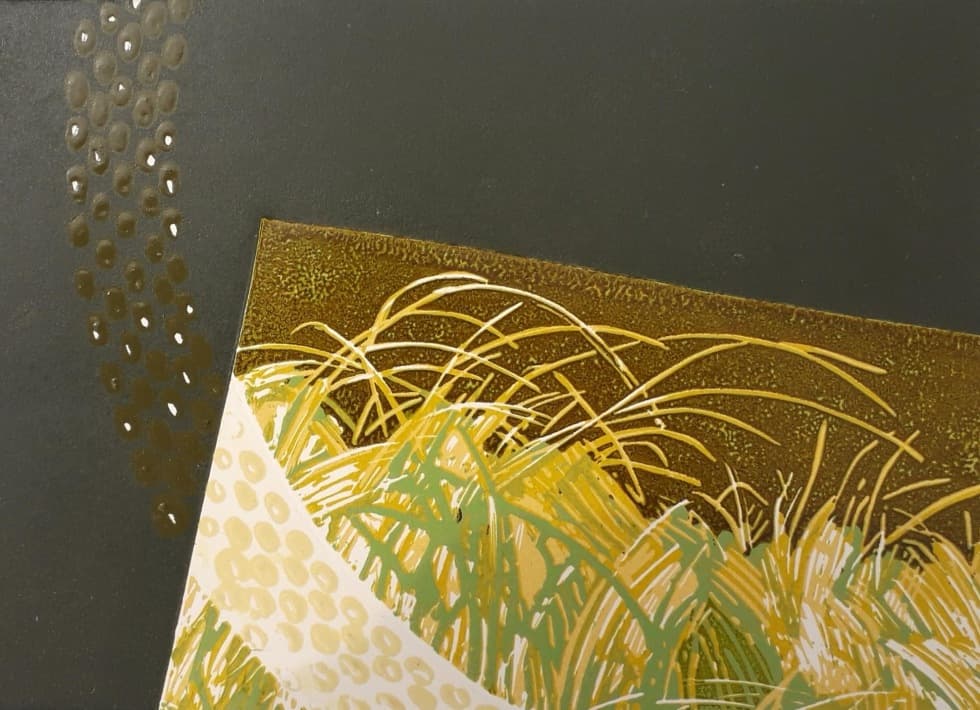 Since 1992 he has held more than thirty independent exhibitions and participated in more than fifty joint exhibitions both in the Czech Republic and abroad.
Represented in following collections
The Museum of Czech Literature, Prague
The J A Comenius Museum, Uherský Brod
Saint Emilion, France
The Horácká Gallery, Nové Město na Moravě
Klatovy/Klenová Gallery
The Municipal Library of Prague
The Municipal Gallery, Týn nad Vltavou
Private art collections in the Czech Republic and abroad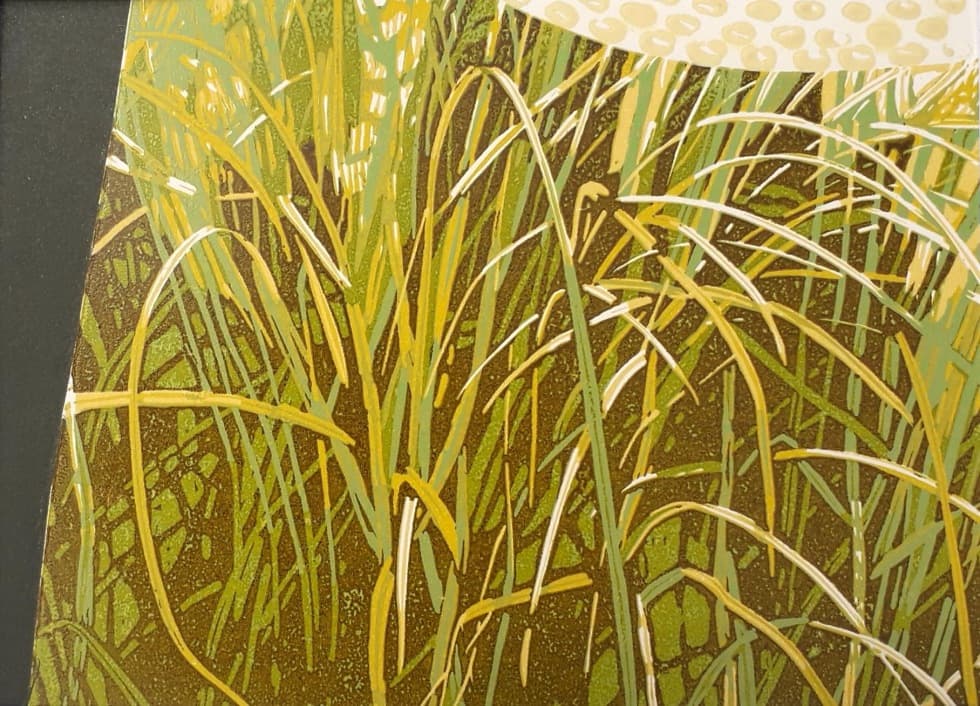 Awards
Honorable mention in the Graphics of the Year 2004
Nominee in the Graphics of the Year 2005
Honorable mention in the Graphics of the Year 2009
Nominee in the Graphics of the Year 2010
People's Choice in the Graphics of the Year 2010
Mass Media
Pressing Matters, United Kingdom, 2020, a review of the SlamaPress
Czech Radio Region, 2020, in the Between Heaven and Earth programme, 9:10-9:15
Czech Radio Vysočina, coverage, 2019
Vysočina TV, coverage of an exhibition and workshop, 2017
Czech Radio Region, an interview, 2017
Online ART, an interview, 2016
Proglas Radio, an interview, 2013
Vysočina TV, coverage, 2012
A Land of Comebacks and Inspiration. Věra Rudolfová, Sursum, 2011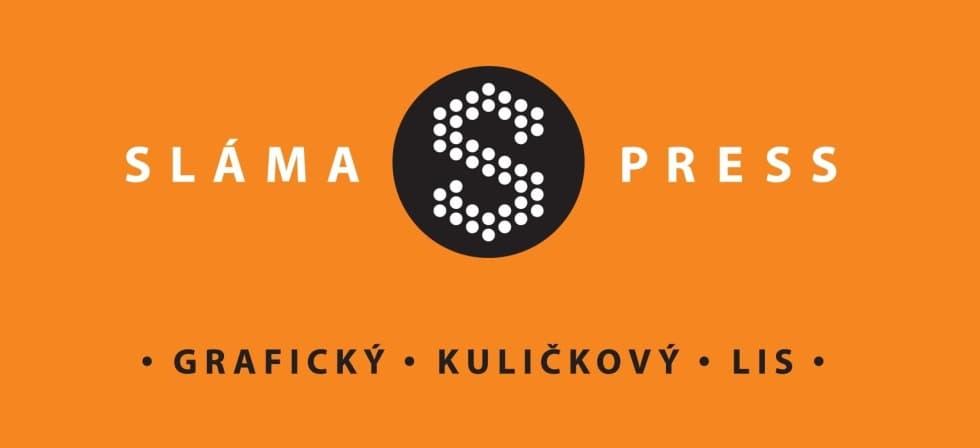 Miloš Sláma has designed a graphic hand press, the Sláma Press, a tool for hand relief printing, intaglio printing and litographic processes. The press enables unlimited size printing
In serial production since 2014, the Sláma Press is protected by the Industrial Property Office of the Czech Republic and OHIM EU.